Login Multiple Facebook Accounts Android and iPhone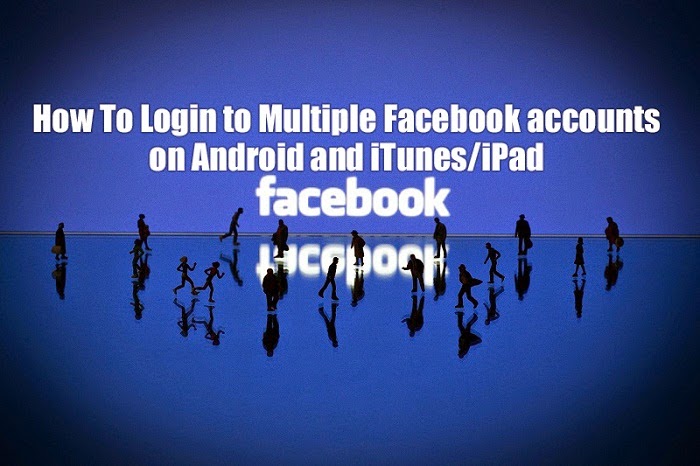 There are many people who have multiple facebook accounts and everyone likes to use multiple accounts so that their personal life and professional life can be managed easily without logging out and logging in again and again.But we all know we can manage our multiple accounts on our Computers and Laptops easily by using another account in a new browser.And as i told earilier in smartphones you have to log out and then log in to your another account.
But it's not a tough job to manage miltiple accounts in a smartphone.So, after reading the article you will be able to use multiple accounts on a smartphone.
Use Multiple Facebook Accounts on Android Devices
You all know that there is no official way announced by facebook till now that how could you use multiple facebook accounts on your smartphone So, we will be using a third party app that is easy to use and which is a very popular app among Developers and the app we will be using is "FriendCaster" This app will let you use multiple facebook account on a smartphone by following some simple and easy steps.And you can download and install this app from 'Google Playstore'.
Steps to 
Login Multiple Facebook Accounts Android:
First of all download and install FriendCaster from Playstore.
Now after installing the app you will have to open it and And Sign in there with your primary account and allow the app to access your account.
To add another account Just go to preferences and then you have to tap on "Add Another Account" Now just sign in with your another Facebook account.You can add many as accounts you want by doing the same step.
To switch from an account to another account.Again go to Preferences and select your account which you want to use for that time.
As this method can be used for android users, but if you are an iphone user then read read below.
Use Multiple Facebook Accounts on iPhone:
In iPhone you also have to install a third party app named "Friendly for Facebook" an iOS app available for free to install on iTunes store.This app also helps in customizing your color scheme etc.Not Just these there are lots of reasons to use this app but we are not here to provide instructions to use these apps.
Download and install "Friendly For Facebook" From iTunes Store and install it on your iPhone/iPad.
When installed, open the app and Start configuring it by adding your Facebook Primary account for multiple accounts.
So these are the most popular apps that can be useful for using mutiple accounts on your android phone.There is no need to log out and log in again in the app.Just login for one time and use it for long time.So enjoy this article and share it with your Facebook Friends and relatives.
Also Read : [ How to ] Use Multitasking Feature Android Nougat